Our Pure Greens ALG, a.k.a The ALG, is one of Pure Green's most popular cold-pressed juices.
The base formula is an energizing mix of leafy greens mixed with apple, lemon and ginger. The apple adds a touch of sweet taste while the lemon and ginger provide for a well-balanced flavor.
Vitamin K
244mcg (200% DV)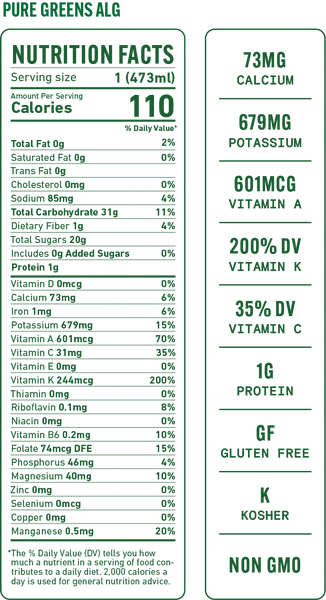 WHEN TO DRINK TO MAXIMIZE PERFORMANCE BENEFITS
With meals/snacks (vitamins A/D/E/K need fat to be fully absorbed)
Weaver, CM. Potassium and Health. Adv Nutr 4(3): 368S-377S, 2013.
Institute of Medicine. Food and Nutrition Board. Dietary Reference Intakes for Vitamin A, Vitamin K, Arsenic, Boron, Chromium, Copper, Iodine, Iron, Manganese, Molybdenum, Nickel, Silicon, Vanadium, and Zinc. Washington, DC: National Academy Press; 2001.
Padayatty, SJ ,and Levine, M. Vitamin C physiology: the known and the unknown and Goldilocks. Oral Dis 22(6): 463-493, 2016.
Love this? Then you also may enjoy